Xgimi's Aura is its first ultra-short-throw projector
By Mike Wheatley
- 13 October 2021
Xgimi made its name for its hip, ultra-portable projectors such as the MoGo Pro and Halo+, but the Chinese brand also has a few conventional models up its sleeve, notably the Xgimi Horizon Pro projector reviewed by HDTVTest last month.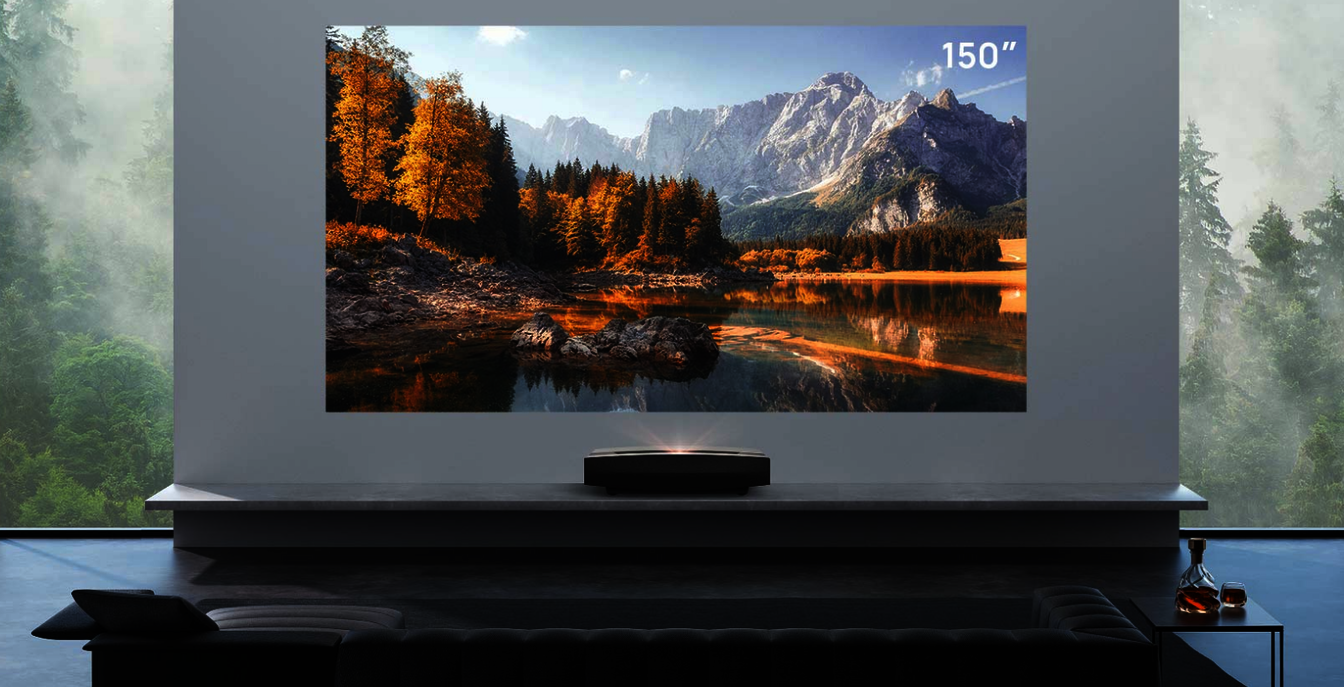 Now, the company is adding to its collection of more traditional projectors with the launch of its first ever ultra-short-throw model, the Xgimi Aura, which it says can throw up a 150-inch, 4K image onto a wall from just a few inches away. It also boasts a punchy 60 watt sound system and HDR support.
The great thing about ultra-short-throw projectors like the Xgimi Aura is it means there's no need to set up the device on a table behind the sofa or attach it to the ceiling, several feet away from the wall or screen. Besides the hassle of doing that, it also means there's the ever-present danger of some fool or the family cat walking in front of the light source and casting a huge shadow over the movie entertainment. The Xgimi Aura eliminates that risk and hassle as it can be placed right up close to the wall and still cast a huge image onto it.
Xgimi says the Aura can cast a 150-inch picture from just 17.3 inches away from the wall or screen. It also boasts a 2,400 ANSI lumens brightness rating, which should be enough to throw up a decently bright picture in the daytime.
The Xgimi Aura is a DLP projector that covers up to 90% of the Rec.709 and 80% of the DCI-P3 colour gamuts, which should ensure some realistic images on screen. It also bakes in 60 Hz motion compensation tech that will ensure action packed scenes remain fast and fluid. Meanwhile, automatic eight-point keystone correction – which was a standout feature of Xgimi's Horizon Pro – helps ensure quick setup with super sharp autofocus. Xgimi claims the device can boot up in just 12 seconds and be ready to go.
At the heart of the Xgimi Aura sits an MT9612 processor and Mali-G52 graphics chip, backed up by 2GB of RAM and 32GB of storage space. It also has Wi-Fi connectivity built-in, so it's possible to stream content directly from the internet and onto the wall. With HDR10 support also onboard, compatible HDR content should be extremely vivid and realistic-looking.
Like all of Xgimi's projectors, the Aura runs the Android TV operating system with its familiar interface providing access to a range of apps out-of-the-box, including YouTube, Hulu, Disney+ and HBO Max. For reasons Xgimi has never clarified, none of its projectors seem to support the Netflix app, even though it is actually pre-installed on some devices. However, that service can be accessed by first uninstalling the original app and then side-loading it via an app called Desktop Manager that can be found on the Google Play Store.
We mentioned the punchy sound system earlier too. This is built by speaker specialist Harman Kardon and features two 30 watt tweeter/woofer combos on each side, with support for DTS and Dolby Audio also thrown in. That should ensure fairly crisp sound, but for those who want even more, there are analog and digital ports on the back to hook up external speakers. There, users will also find three HDMI ports, two USB slots and an Ethernet LAN connection.
"The Xgimi Aura has been created for the home environment with a design that naturally blends into any décor," said Xgimi's vice president of global sales, Tex Yang. "We are seeing the shift in technology that has already impacted every other area of our lives coming to our home entertainment. With the Xgimi Aura, your next TV is not a TV.
Xgimi said the Aura is available globally now, priced at $2,499 (around £1,835).
If you're interested in Xgimi's poducts, check out our review of the Xgimi Horizon: