UK's 3rd Dolby Cinema Experience Opens in Manchester
By Mike Wheatley
- 11 September 2019
Movie buffs in Manchester can now treat themselves to the most immersive cinematic environment the city has ever offered following the opening of its first Dolby Cinema screen at the ODEON Trafford Centre.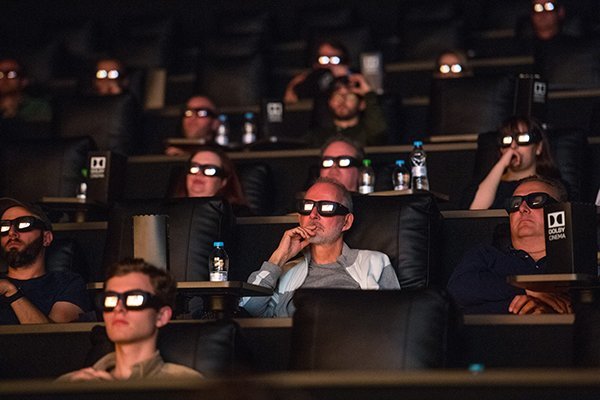 Dolby reckons its luxury cinemas are a game-changer, delivering an unrivalled film-watching experience with the best picture, sound and comfort ever seen at the pictures. They make use of premium TV technologies such as Dolby Vision and Dolby Atmos to produce the most realistic images and sound possible.
The Manchester Dolby Cinema is the third such screen to open up to U.K. audiences. The other two Dolby Cinemas are located in London's ODEON Luxe Leicester Square and ODEON Luxe Leeds Thorpe Park.
Dolby Vision is said to bring stories to life like nothing else with its incredible brightness, captivating colours and extremely accurate contrast. Dolby Atmos meanwhile replicates what is often said to be the most realistic and natural-sounding audio experience possible. With it, the sound literally fills the room, surrounding audiences with "lifelike depth, detail and clarity", Dolby said.
But it's not just only Dolby's advanced technologies that make the movies it shows such a compelling experience. Film-goers will also be treated to a new level of comfort with "luxury reclining seats" they can almost literally melt into, with three-times the leg room of normal cinemas.
"We're very excited that ODEON Trafford Centre will be the first cinema in Manchester to offer the Dolby Cinema experience," said Dan Formby, general manager of ODEON Trafford Centre. "With the added luxury of recliner seats, this is one of the very best ways to enjoy a movie. Our guests are in for a fantastic treat, there are so many great movies slated for release that will look and sound incredible in the Dolby Cinema."
Some of the first films to be show at the cinema include "Downtown Abbey", which is slated for release on Sept. 13, and "Ad Astra" which is out on Sept. 20. Other titles to look forward to include "The Joker", "Frozen 2" and "Star Wars: The Rise of Skywalker", all of which will be released later this year.