Toshiba TVs get Clive Tyldesley on Amazon Alexa for fun footy facts
By Mike Wheatley
- 7 June 2021
Toshiba TV owners will be able to have a bit of fun during this summer's 2020 UEFA European Football Championship. The company has made legendary football commentator Clive Tyldesley available to settle viewers football arguments and respond to other footy-related questions during the matches.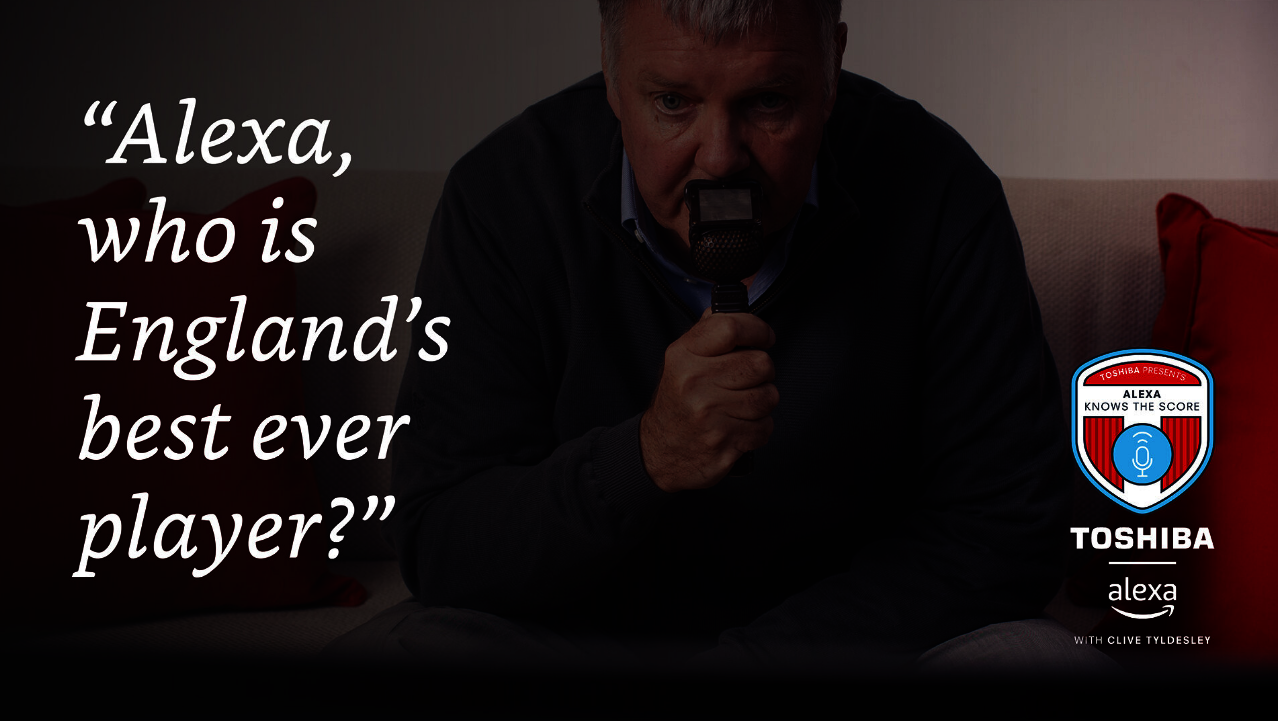 Toshiba is partnering with Clive, who served as ITV's senior football commentator for more than 20 years, with the help of Amazon Alexa. Just ask a footy-centric question such as "Who is England's record scorer against Scotland?" for example, and Clive's unmistakable voice will fill you in with the details.
In total Clive has responses for what Toshiba says is the 25 most commonly asked questions on European football.
"Fans who can't agree on the best player from each nation, or struggle to remember how well their team did against a rival country in the past, can get all the answers from Clive by simply asking their TV – even while they're watching a game," Toshiba helpfully explains.
Of course, whether or not the 25 questions are indeed the most commonly asked questions is a bit debatable, but that hardly matters. It's all just meant to provide a bit of fun for footy fans while promoting Alexa's capabilities on Toshiba's smart TVs, which are some of the most affordable voice-capable models around.
Some of Clive's answers probably won't be that definitive either, and could in fact lead to yet more arguments. For example, Toshiba suggests asking "Alexa, who is Wales' best ever player?", but you can be sure that if Clive says it's Ian Rush, there'll be others who insist Ryan Giggs was far superior. So Clive's responses might not always settle a debate on the spot, as Toshiba claims.
Here's the full list of questions that will get a response from Clive: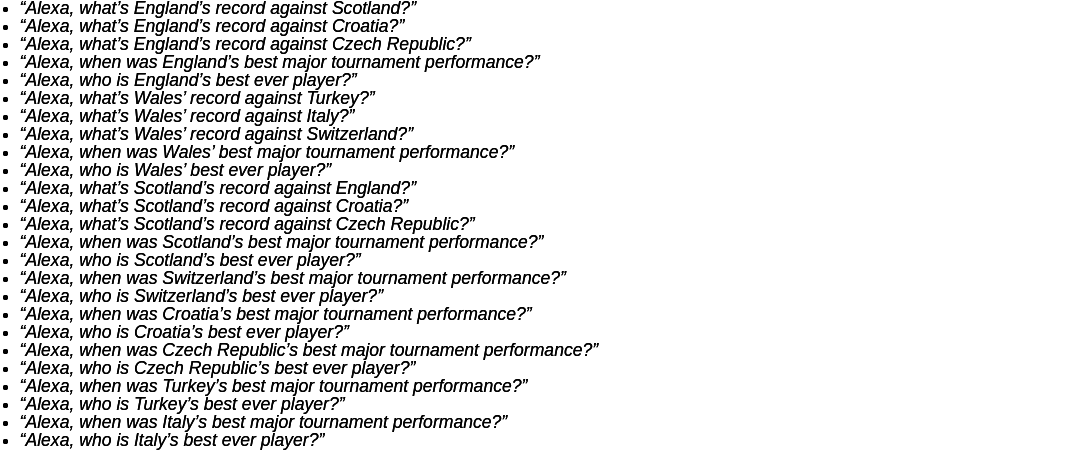 "Summer football brings everyone together to share a passion for the national sport", Clive Tyldesley said in a press statement. "From the diehard supporters that never miss a match, to the more casual fans who just love the building drama of a major tournament, the daily conversation is dominated by football."
Toshiba sells a range of very affordable 4K TVs that come with Amazon Alexa, including the popular Toshiba UK4B LCD TV that was launched last year and is available in a choice of 43-inch, 50-inch and 58-inch sizes. It's actually not a bad budget-range TV with its sleek, bezel-less design and premium features such as its artificial intelligence-based TRU Picture Engine that processes content to deliver sharper images, and TRU Resolution, which upscales regular HD content to 4K resolution.
The Toshiba UK4B also has Dolby Vision, the premium High Dynamic Range format that helps to further enhance the picture quality with compatible content. And there's some pretty punchy audio too, thanks to the built-in Onkyo speakers that support Dolby Atmos surround sound.
If you're after something more compact, you can also find Amazon Alexa on Toshiba's smaller WK3C Series TV that comes in 24-inch and 32-inch sizes only, clearly designed for a bedroom or perhaps the kitchen. What's unique about that model is it doesn't even come with a remote, so the only way to control it is by barking commands at Alexa, or throwing questions at Clive.
There's a bunch of other Alexa-enabled Toshiba TVs to choose from too. If interested, feel free to take a gander here.