Samsung's Gaming Hub adds Boosteroid, while 2020 TVs get Xbox and GeForce Now
By Mike Wheatley
- 17 November 2023
Samsung Electronics TVs are getting a trio of new cloud gaming apps, with Xbox and GeForce Now arriving on its 2020 models and Boosteroid landing on those from 2022 and 2023.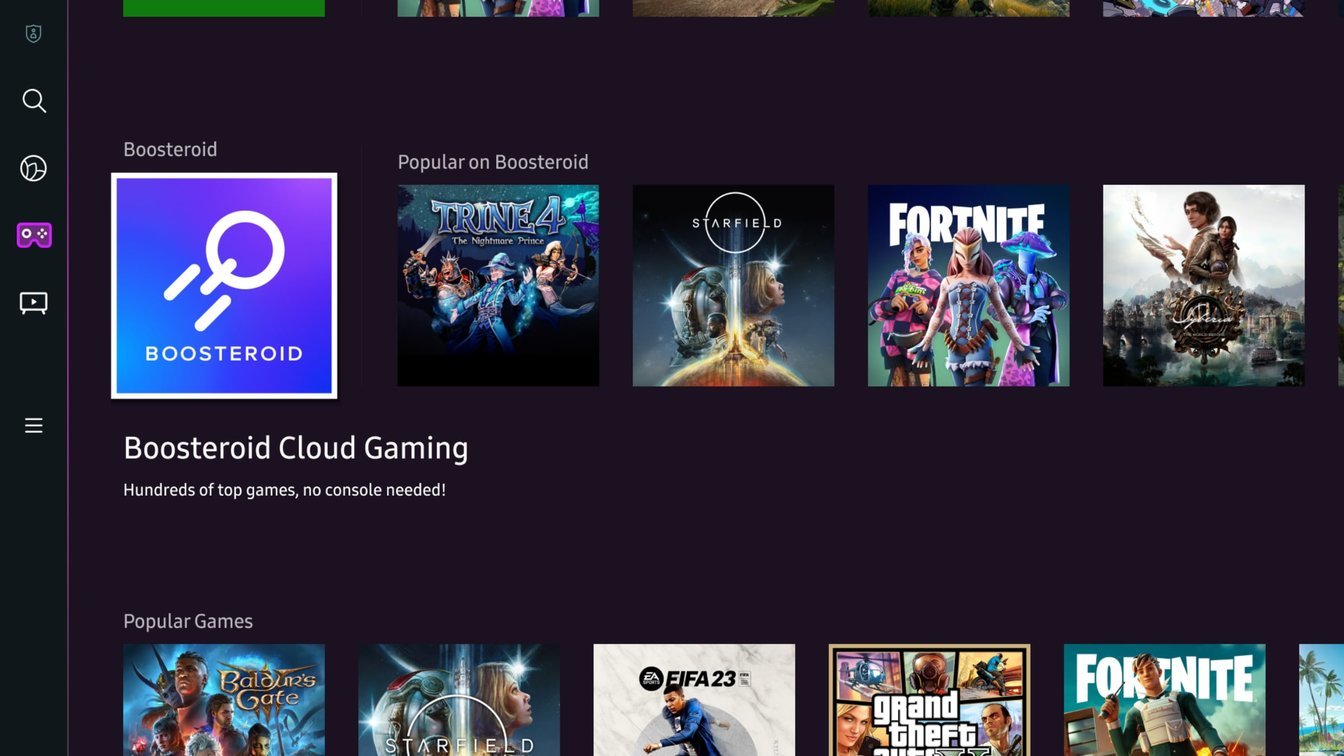 Many of Samsung's newer TVs, from 2022 onwards, were already able to access Xbox and GeForce Now's video gaming streaming services, along with others such as Amazon Luna, Utomic, Antstream Arcade and Blacknut Cloud Gaming through the Samsung Gaming Hub.
The Gaming Hub is now being expanded with the addition of the Boosteroid app, which provides access to a number of popular AAA games, Samsung revealed.
Boosteroid's corporate vice president Vlad Kosmin said the service was created so gamers would be able to enjoy effortless access to high-end gaming rigs in the cloud, which enable unlimited AAA gaming. "Samsung Gaming Hub is a dream platform for our players because it was built from the ground up for game streaming, removing barriers to entry with no downloads and no consoles or PC required," he said. "We're eager to welcome a new community of players to our platform through Samsung."
Of course, these gaming apps don't come cheap as a separate subscription is required to play each one, and in the case of Boosteroid it will set you back 7.5 euros per month. For that, users can gain access to a powerful remote PC platform in the cloud and play games they have already purchased on Steam, Epic Games Store and Battle.net.
The Samsung Gaming Hub comes with all 2022 and 2023 Samsung TV models and can also be accessed via the Freestyle 2nd Gen projector and various smart monitors. The company has not launched the Gaming Hub on older TVs, but has instead enabled players to access individual gaming apps directly through the Tizen interface. It started with its 2021 models, and later rolled out Xbox and GeForce Now on its 2020 TVs in the U.S. They are are now being rolled out globally. To see the apps, users must download and install the latest firmware for its 2020 TVs, before they'll be able to see them in the TVs' application store.
Although some older Samsung TV models are capable of running cloud gaming apps, the company has not yet announced any plans to introduce them.