Philips launches ultra-cheap Screeneo U4 ultra short-throw projector
By Mike Wheatley
- 21 June 2022
Philips has unveiled what is just its second ultra short-throw projector, and appears to be trying to strike a better balance between buyer's budgetary requirements and big-screen needs.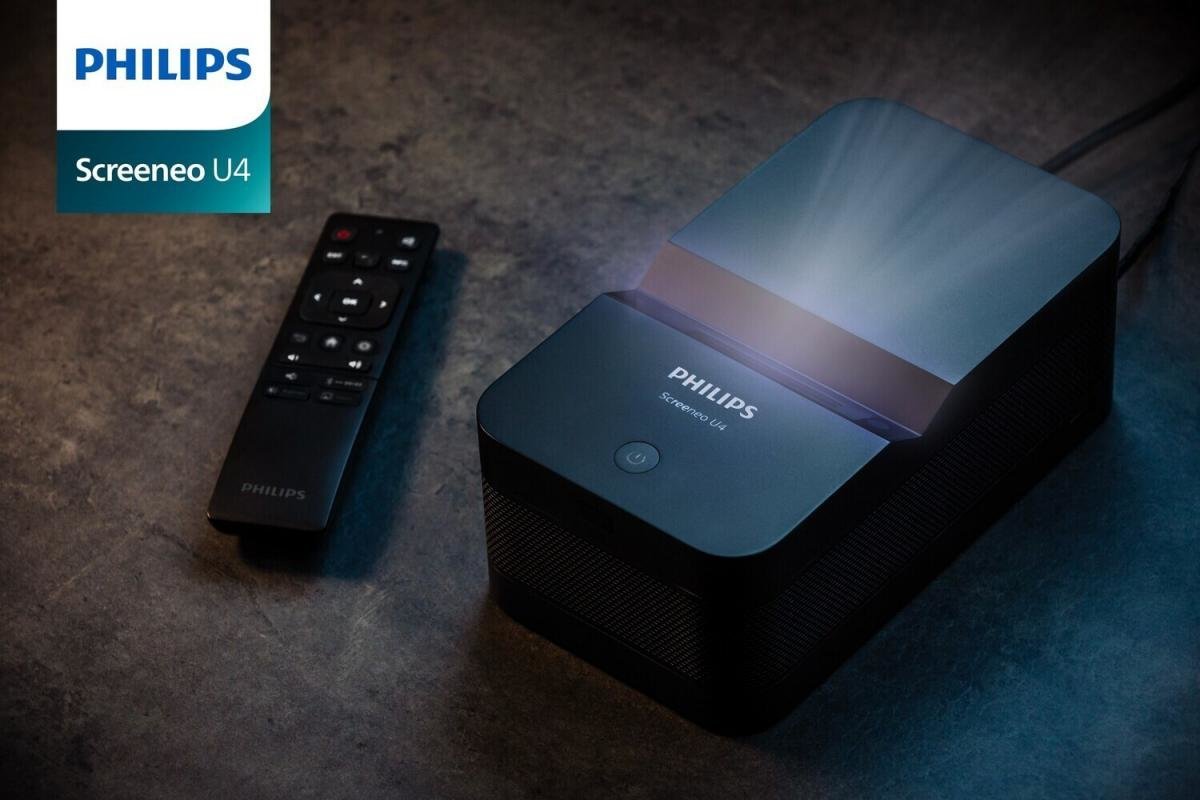 The Philips Screeneo U4 replaces the Screeneo U3 UST model that debuted last year, and it is available now for pre-order exclusively at Indiegogo for the very affordable price of just $620. The Screeneo U4 is set to ship in August, and at that price it looks like a very compelling offering, given the sky-high cost of other UST projectors such as LG Electronics' $5,999 CineBeam.
UST projectors are increasingly seen by consumers as the way to go if you need a big picture but don't want to spend thousands on a hulking great OLED or LCD TV that will take up acres of space in the living room. Of course, the low price of the Philips Screeneo U4 means that you won't be treated to pristine, 4K images being beamed onto the wall. No, you'll have to make do with 1080p resolution, though the device does accept a 4K/60Hz video input and it can also handled HDR10 sources, Philips said.
The Screeneo U4 has a throw ratio of 0.25:1, which means it can create a 60-inch image when positioned just 7.7 inches from the wall or screen, or an 80-inch image at just 12 inches away. Moreover, its 4.8 x 3.2 x 8.8 inch profile means it's a very portable device. Features include auto-focus and auto-keystone that help to instantly deliver a razor-sharp image that's correctly positioned the moment it's set down and powered on. Moreover, it looks snazzy too, with a dark matte aluminium and ABS case, complete with stylishly curved edges.
Also on the spec sheet, the Screeneo U4 claims that its LED light engine delivers 400 lumens brightness. That number is for both colour and white brightness, Philips said. In addition, it boasts 108% coverage of the Rec.709 colour space, and a light source lifespan of 30,000 hours. Input latency is measured at 30ms, which is fairly impressive considering this projector is not marketed as a gaming model.
Gaming could well be on the menu though as the Screeneo U4 comes with two HDMI inputs that enable consoles or a streaming box or stick to be slotted into it. There's also a USB type-A port on board, with a 2.1 channel sound system that includes two-times 15 watt speakers. Users also have Bluetooth connectivity as a second option for audio output, so they can link it up to a Bluetooth speaker, soundbar or headphones.
The great thing about UST projectors is that they provide an easy way to get an enormous image of 100-inches or more without taking up loads of room, and without the inconvenience of having to install a traditional projector that must be placed a substantial distance away from the screen or wall.
The benefits of UST projectors are therefore undeniable, and for just $620, the Philips Screeneo U4 could well be the ticket for casual gaming, live sports viewing or family movie nights. It might not produce the most impressive images, but for many it will be more than good enough, especially at that tempting price tag.