New Hisense 110UX TV to deliver astonishing 10,000 nits peak brightness
By Mike Wheatley
- 18 November 2023
Hisense has provided a sneak peak of a new TV that will make its debut at the Consumer Electronics Show in 2024. It promises to deliver an astonishing 10,000 nits of peak brightness, making it the single brightest consumer TV ever announced.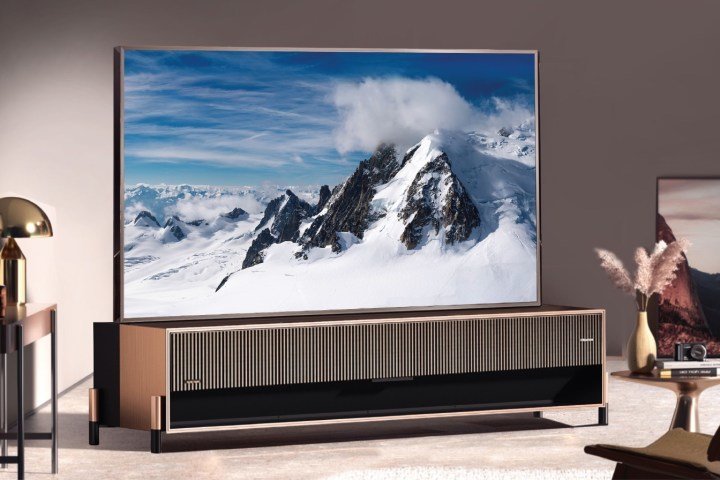 The 110-inch Hisense 110UX TV will have its own dedicated at CES 2024, and is based on the company's ULED X technology, which is similar to Samsung's QLED displays.
What that means is that the Hisense 11UX is really a Mini-LED TV that boasts thousands of local dimming zones. This, the company said, is part of the secret inside that will enable it to deliver "higher levels of brightness and realistic on-screen picture quality" than ever seen before on any consumer TV. In addition, Hisense claims the TV will deliver three-times the environmental contrast and two-times the dynamic range of the most premium OLED TVs currently available.
To get an idea of just how bright 10,000 nits really is, we can compare it to the Hisense UX range, which was launched earlier this year and includes the company's flagship models for 2023. The Hisense 110UX is four-times as bright as the UX TVs, and also delivers more than double the brightness of the current record holder for a consumer TV, which was also built by Hisense and can achieve 4,000 nits.
We can also contrast it with other brands, such as a Q9 Samsung QLED TV, which can reach around 2,000 nits. LG Electronics also claims to hit around 2,000 nits on its latest OLED TVs that feature Micro Lens Array panels, but that's only possible on its 55-, 65- and 77-inch models, not the 83-inch version.
Hisense said its Mini-LED panel packs more than 40,000 individual backlit zones, while each of the Mini-LEDs are high-output 24V versions, which help to crank up the brightness. The company has also done lots of work to eliminate backlight leakage. Of course, it's important to point out that brightness isn't the only consideration when it comes to creating a super realistic picture, as darkness is equally essential for lifelike contrast, but the company insists the TV does well in this area too.
Another key capability of the TV will be its exceptional colour volume, covering 95% of the BT.2020 gamut. That's impressive too. For perspective, the LG G3 OLED TV released earlier this year only covers 75% of the BT.2020 specification. According to Hisense, the increased range of colour is achieved through the use of new panel materials and more advanced quantum dots.
Hisense also talked about an ultra-low anti-glare film and an internal panel structure that achieves what it says is 1.28% reflectance, meaning it can minimize glare and disruption caused by ambient lights. Also onboard is the company's STW2.0 wide-angle technology, which helps to maintain the same picture quality at wide viewing angles.
Hisese didn't make any mention of the TVs' resolution, so we'll have to wait until that is confirmed. However, it's most likely a 4K TV, as Hisense appears to have abandoned 8K for the time being, declining to release any such models this year.