MediaTek announces its first dedicated chip for 8K smart TVs
By Mike Wheatley
- 22 November 2021
MediaTek has announced a new flagship system-on-a-chip for high-end 8K smart TVs. The Pentonic 2000 chip promises to deliver faster refresh rates, powerful artificial intelligence capabilities, picture-in-picture streaming and more.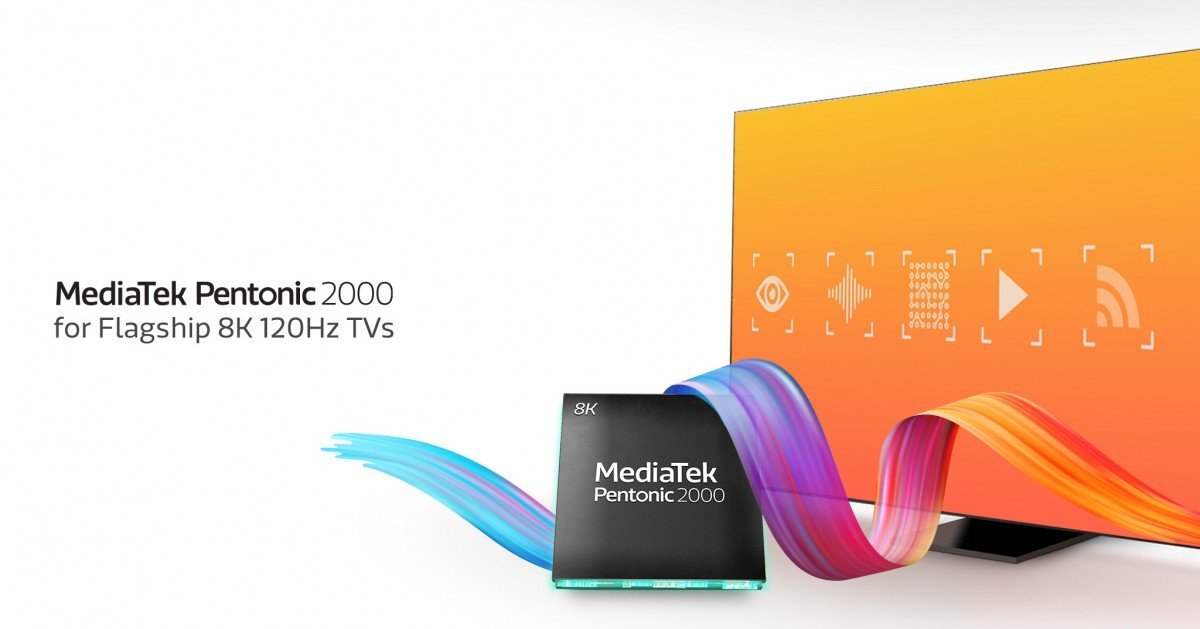 The chip is said to be a world-first in many respects. First and foremost, the Pentonic 2000 is the first-ever 7 nanometre chip built specifically for TVs. With the 7nm process, the distance between the millions of transistors on the silicon is made smaller, meaning it's capable of performing more calculations faster, making it more powerful.
It's also the first TV chipset produced that supports Versatile Video Coding for H.266 content. H.266 is a newer codec with improved compression efficiency that's designed for streaming and broadcast media, ideal for a future when 8K resolution streams will eventually become the norm.
Besides, the HEVC, VP9 and VS3 codecs are also supported by the new chipset.
Better still, MediaTek said the Pentonic 2000 supports 8K 120Hz displays, and can also support 144Hz for gaming PC hardware and next-generation games consoles.
"MediaTek has built its multimedia expertise over the past two decades and is now the No. 1 chipset provider for smart TVs," said Dr. Mike Chang, Corporate Vice President and General Manager of the Smart Home Business Group at MediaTek. "The introduction of the Pentonic brand continues our legacy as we focus on pushing the boundaries of innovation in the smart TV market."
As well as the integrated 8K 120Hz MEMC engine, the Pentonic 2000 also features a built-in, high-performance MediaTek APU, or AI processor, which powers 8K AI-Super Resolution technology. With this, the chip is able to upscale lower resolution content to a display's native resolution and perform real-time image quality enhancements at the same time. So it should mean that 4K content sources will finally be upscaled to something that approaches native 8K resolution.
The Pentonic 2000 chip also contains MediaTek's Intelligent View technology to support multiple picture-in-picture or picture-by-picture screens. With this, larger 8K displays can be transformed into a display wall that shows content from multiple sources. So users would be able to use their TV to open multiple apps and stream content or play games, simultaneously.
MediaTek said the system-on-a-chip is powered by the industry's fastest dedicated TV CPU and GPU, and integrates an ultra-wide memory bus with ultra-fast UFS 3.1 storage. Connectivity options include support for Wi-Fi 6E and 5G cellular modems that ensure the blazing-fast internet connectivity that's needed for 8K streaming from multiple sources.
The Pentonic 200 also supports Dolby Atmos and Dolby Vision, the AV1 codec for streaming from sources such as Netflix, and all global TV broadcasting standards, including the latest ATSC 3.0 spec.
MrediaTek said the Pentonic 2000 chip will launch globally in early 2022, with the first 8K TVs powered by the chip expected to arrive later that year.