Marantz launches its first 8K-ready SR-Series AV receivers
By Mike Wheatley
- 7 July 2020
Premium audio products maker Marantz has announced U.K. launch dates and pricing for its first ever batch of 8K-ready AV receivers. The company's 2020 SR-Series includes four models, which it says designed to recreate the most realistic audio from a variety of sources, including Blu-ray discs, video streaming media, video games and even good old fashioned vinyl records.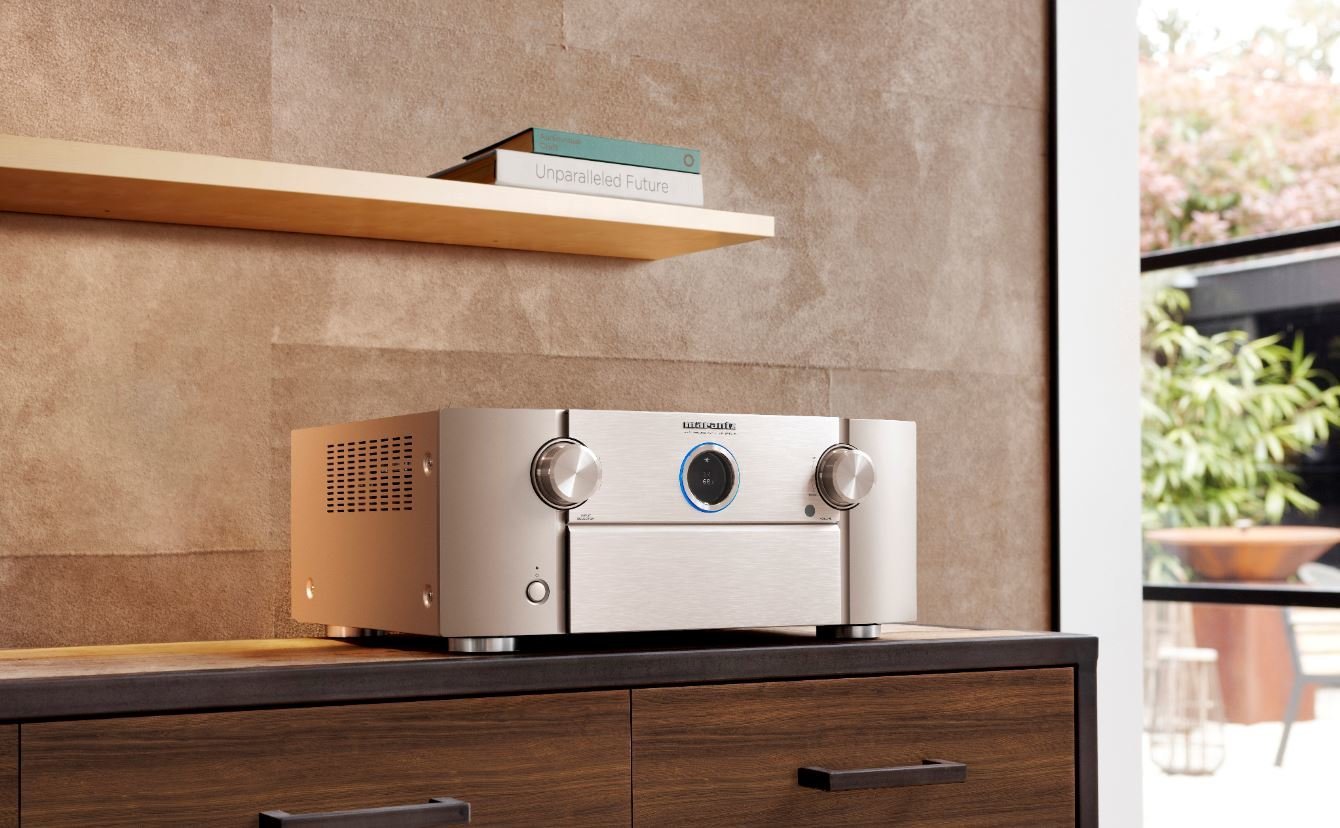 Top of the range in this year's series is the Marantz SR8015 (pictured), which packs 11 channels, 205 watt amplifiers built-in, and will add support for the premium DTS:X Pro technology for truly immersive audio via a firmware update later in the year. It means users will be able to enjoy 13.2 channels DTS:X decoding with speaker configurations such as 7.2.6 or 9.2.4, including movies with IMAX Enhanced certification.
The other models in Marantz's lineup include the budget-range SR5015, which offers 7 channels and 7.2 channel processing, and supports 180 watt Dolby Atmos and DTS:X surround sound. Then there's the 9 channel, 185-watt SR6015, with 11.2 channel processing, followed by the Marantz SR7015, which has many of the same features but adds a little more punch with its 200-watt output.
All four receivers support a range of immersive 3D audio formats besides DTS:X and Dolby Atmos, including Dolby Atmos Height Virtualization Technology, which enables surround sound without height channels in 1 7.1, 5.1 or 2.1 speaker configuration, DTS: Virtual X, and the popular Auro 3D format.
Perhaps the most interesting new capability though is the SR-Series' support for 8K/60Hz and 4K/120Hz video pass-through thanks to their dedicated 8K HDMI inputs. Although Marantz's rival in the audio space, Denon, has already beaten the company to the punch in this regard, it matches those competing offerings with support for playback of a variety of High Dynamic Range formats such as Dolby Vision, HDR10+, HDR10, HLG and Dynamic HDR. The latest SR-Series AV receivers also support a new HDMI feature called Quick Media Switching, which allows the source to switch resolution or frame rate instantly, thereby eliminating screen blackout.
Also new is support for next-generation video games console features such as Auto Low Latency Mode, which automatically switches the receiver to "game mode" to reduce input lag, Variable Refresh Rate, which reduces fluctuating rates, and Quick Frame Transport, which reduces display latency.
In addition, Marantz said its SR-Series is also capable of upscaling existing High Definition and 4K content to 8K, and they also support an HDMI feature called enhanced Audio Return Channel, which enables lossless and object-based audio transmission such as DTS:X and Dolby Atmos from TV apps or connected devices using a single cable.
Of course, one final feature that's always worth a mention is Marantz's Audyssey MultEQ technology, which helps users optimise the set up of their sound system by analysing the output from each connected speaker, so that each channel outputs the optimal frequency and time domain response.
Here's the full spec sheet for Marantz SR-Series recievers: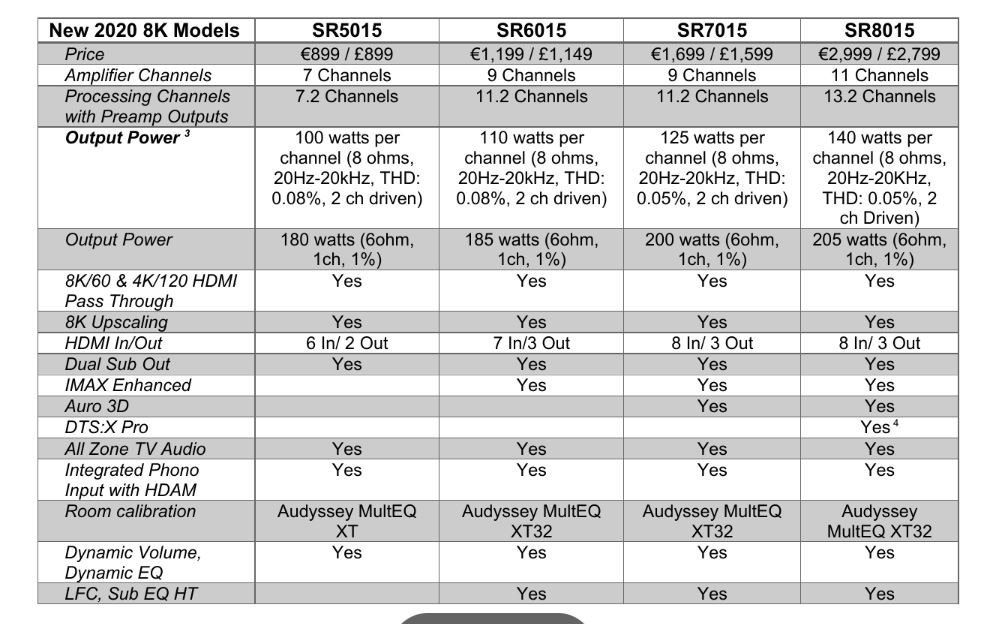 Marantz said the SR7015 will be the first to go on sale in the U.K. in August, priced at £1,599. We'll have to wait another month for the others though, as the SR5015, SR6015 and SR8015 won't go on sale until September, when they'll be priced at £899, £1,099 and £2,799 respectively.