Kagan expects streaming media device sales to decline this year
By Mike Wheatley
- 3 August 2022
Streaming media device sales are expected to be lower in 2022, but the media research group Kagan says the industry is likely to return to growth by 2023, with more than 100 million devices sold worldwide by 2026.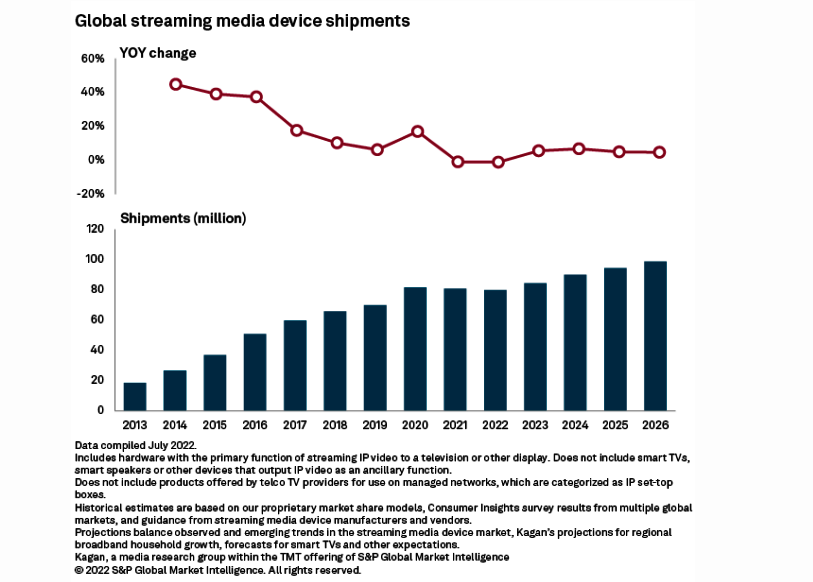 The report said that while COVID-19 pandemic-fueled surge in demand for video streaming services has been a positive for devices such as Apple TV, Fire TV and Roku, the combination of computer chip shortages, supply chain and logistics disruptions and recent higher inflation has resulted in negative growth.
Due to these factors, Kagan says global shipments of streaming devices will likely fall by 1.2% to 80 million units by the end of 2022. The report takes into consideration a range of high-end streaming boxes and sticks, including the Apple TV, Nvidia Shield, Chromecast, Fire TV and Roku devices. However, the numbers do not include smart TVs, set-top boxes or games consoles, which can also stream video content.
Although Kagan believes the market will decline this year, it said it anticipates a return to growth in 2023, with market forces set to swing back in favour of low-margin hardware production.
"We forecast a 4.1% compound annual growth rate (CAGR) for SMD (streaming media devices) shipments from 2021 through 2026, enough to push the market close to 100 million units in 2026," the analyst firm said.
Streaming device manufacturers have been pretty low-key over the past couple of years. Last year, Apple launched a new version of the Apple TV, while Amazon announced the Fire TV Stick 4K Max, but both new devices only really introduced minor upgrades. Roku, meanwhile, hasn't launched any new streaming devices for a good while, and the current generation Nvidia Shield was launched as far back as 2019. Google's last Chromecast device came out in late 2020.
However, things are changing, with Google expected to launch a new Chromecast later this year and Apple rumored to be launching a more advanced Apple TV that could possibly be powered by an A14 chip and support better games.
As far as the installed base of streaming media devices goes, Kagan said this will total 313.5 million at the end of 2026, up from 232.6 million in 2021.