Hisense launches new 120-inch LF5 laser projector
By Mike Wheatley
- 23 March 2021
Hisense is launching a new addition to its L5 series of ultra-short throw projectors that provide a nice alternative for anyone who wants a big picture without a huge television dominating their living room.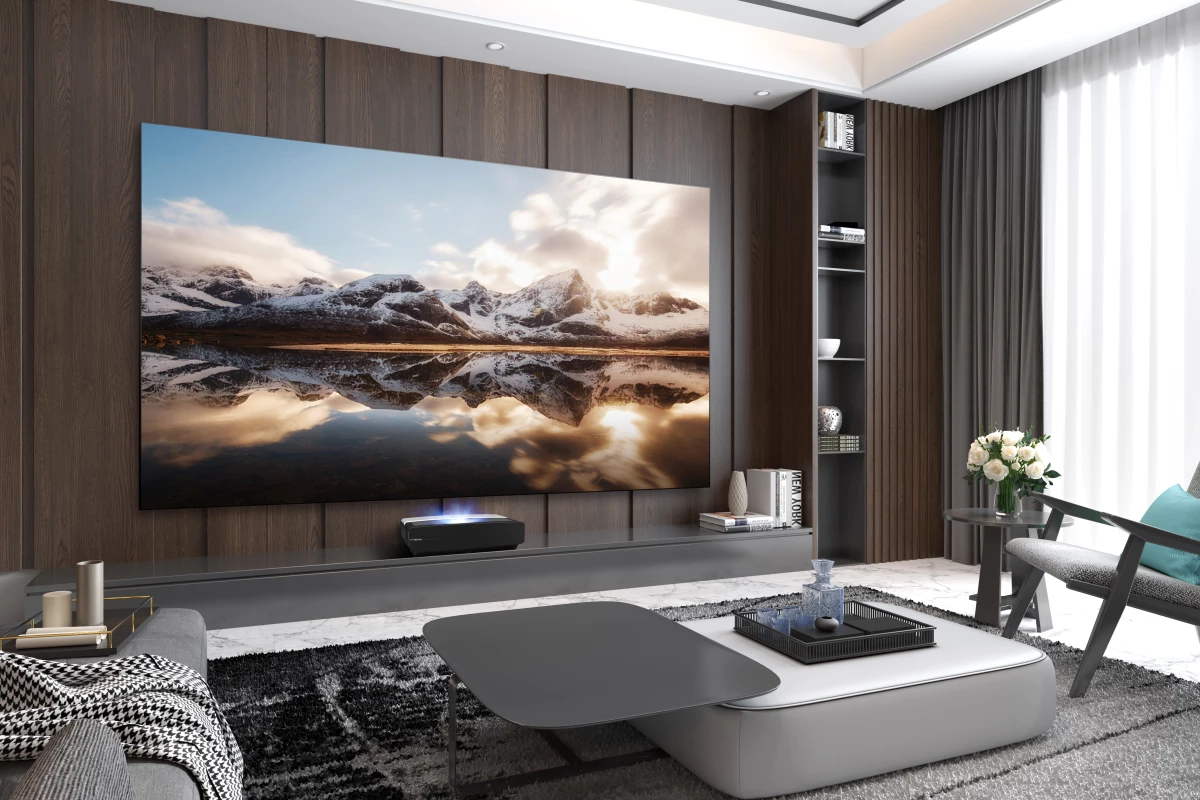 The Hisense L5F Laser Cinema is able to throw up a 4K image that maxes out at 120-inches, when its placed at just 14 inches from the wall. The L5F uses a single blue light laser source combined with a phosphor-based colour filter and can achieve a maximum brightness of 2,700 lumens. It can reproduce more than billion colours too, supporting 83% of the DCI-P3 colour gamut, Hisense said.
The projector supports HDR in the form of HDR10 and HLG to deliver "true-to-life picture quality" and "incredible depth and sharp details", the company said. It also has MEMC smooth motion technology that helps to ensure clearer and crisper images in fast-moving scenes.
Hisense claims it should work well in brightly lit rooms too thanks to its ambient light rejecting screen, though users can choose to just throw up a picture on the wall if they prefer. That might be handy if you want to bring the projector to a friend's house perhaps, but don't want to lug the separate screen along too.
On the audio side, users have the option to hook up the Hisense L5F Laser Cinema with a separate sound system thanks to its digital and analog outputs. Or else it comes with two compact 15-watt speakers of its own.
The inclusion of the Android TV platform meanwhile should ensure that users will have plenty of content to watch, with apps such as Netflix, YouTube and Disney+ all pre-installed. The TV also has an Ethernet port that enables it to connect directly to a home router, and four HDMI slots for various audio visual systems and games consoles. Moreover, it comes with a Voice Remote Control that's powered by Amazon Alexa for those who prefer not to push any buttons.
The Hisense L5F Laser Cinema will command a $5,000 (around £3,600) price tag when it goes on sale in the U.S. There's no word yet on when it will be released in the U.K. or how much it might cost.
Hisense is also planning to launch updates to its high-end TriChroma Laser TV range later this year. The updates, announced at the Consumer Electronics Show in January, will include a new 100L9 Pro Limited Edition model that will be based on a new RGB laser light source architecture that's able to control separate lasers that can render much purer colours than before. They will also feature a new processor architecture that supports Mini LED backlight controls for more than 5,000 dimming zones and 8K image processing.