Google Stadia game streaming lands on select Android TVs
By Mike Wheatley
- 24 June 2021
Google's video game streaming service Stadia can now be downloaded and played on some Android and Google TVs, including the new Chromecast with Google TV dongle and some Philips OLED TVs.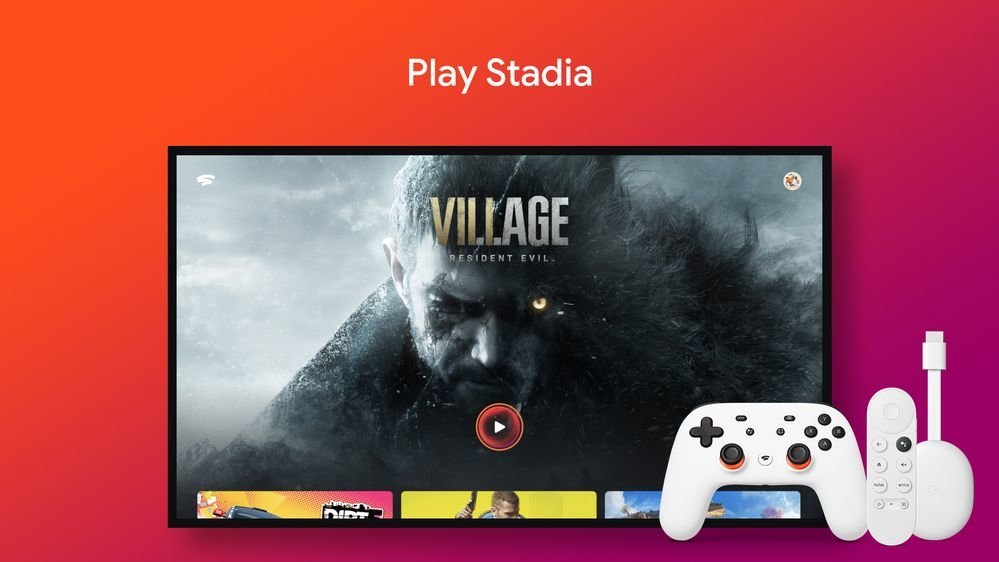 Stadia is Google's cloud-based streaming service for gamers, and the service is an enticing one for games fans that don't currently own a dedicated games console or PC, giving them a way to play popular titles like Resident Evil Village, Destiny 2 and Dead by Daylight without investing in any hardware.
Cloud gaming with Stadia also means there's no need to open the wallet to buy physical copies of games either, as they're simply streamed to the TV whenever users want to play. That's because the games and processing power needed to play them is all hosted on Google's servers, which are more than capable of handling bandwidth required by the most demanding titles. It means users don't have to download any patches or game updates either, as they'll always be playing the most up to date version of any title.
What users do need to ensure however is that they have a very slick Internet connection. Modern games are pretty demanding at the best of times, and so a very fast broadband connection is an absolute must-have in order to avoid any issues with games lagging. Google recommends a connectivity speed of 10 megabits at a minimum in order to enjoy a lag-free experience.
With Google Stadia rolling out on some Android and Google TV devices this week, it's now possible to download the app directly from the Play Store, then use either an official Stadia Controller or some universal Bluetooth gamepad. Simply connect that to the TV, open the app and you'll be able to get started playing a variety of games.
It's worth noting that the list of supported devices is somewhat short at present, with just the Chromecast with Google TV, Hisense U7G, U8G and U9G Android TVs, Nvidia Shield TV, Nvidia Shield Pro TV, Onn FHD Streaming Stick and UHD Streaming Device, Philips 8215 and 8505 LCD TVs, Philips OLED 935 and 805 TVs and the Xiaomi MIBOX3 and MIBOX mentioned by name.
One of the most notable absences from the list is Sony, whose various Android and Google TVs do not support Stadia at present. Sony is a big omission as it's probably Google's biggest TV partner, though the fact that the Japanese firm also sells a product called the PlayStation, along with a competing games streaming service called PlayStation Now, might explain why that has happened.
Still, there may be a workaround for Sony Android and Google TV owners.
"As for Android TV OS devices not on this list, you can opt into experimental support to play Stadia," Google said in a blog post. "While this feature is still in development and not every Android TV OS device will work perfectly, you can now try out Stadia and play your favorite games on more screens than ever before."
Google Stadia is also expected to arrive on some non-Android TVs, such as LG's 2020 and 2021 TVs, in the second half of the year.
Some users may question why anyone would want to play Google Stadia, as the service has not really taken off as Google might have hoped for when it first launched, and late last year it was reported that user numbers were actually in decline. Also last year, Google said it was winding down its Stadia Games and Entertainment division and that it would stop making video games itelf.
But last November Google shared a roadmap for Stadia for 2021 and beyond, vowing to expand it to Android and Google TVs and promising more than 400 new titles would launch on the platform throughout the year. This week's news is therefore the firmest evidence seen in while that Google isn't giving up on Stadia.
For those interested, the most basic free plan offers a few games to try things out, though most titles are only available to paid subscribers. The most expensive Pro subscription planc osts £8.99 per month and $9.99 in the U.S. and enables 4K gaming at 60Hz, HDR and 5.1 channel surround sound.