Bang & Olufsen adds 55-inch OLED Beovision Contour TV
By Mike Wheatley
- 10 June 2021
Luxury TV brand Bang & Olufsen has announced a larger version of its beautiful Beovision Contour TV, a luxury OLED model that delivers not only a gorgeous picture, but also high quality sound thanks to its built-in Beosound Stage soundbar.
The new, 55-inch Bang & Olufsen Beovision Contour OLED TV is the larger sibling of the 48-inch model that appeared at the tail end of last year, designed as a luxurious competitor to the new 48-inch OLED models from the likes of LG Electronics and Sony that first hit the market in 2020.
Bang & Olufsen considers itself a luxury consumer electronics brand and so it always places a lot of emphasis on the look and feel of its products, and this addition to the Beovision Contour range is no different.
The larger model has just as much glitz as the 48-inch edition, sporting an identical classic and minimalist design, encased in a super-thin aluminium frame with a choice of silver, black anthracite or gold tone colours and a matching fabric or wood finish.
It really is one of the most stylish TVs around, but it's about more than just its classy looks, for its exquisite appearance is matched by a high quality image thanks to the combination of its OLED display, the α9 Gen3 AI Processor 4K that was seen on last year's premium LG OLED sets, and its support for high dynamic range formats like Dolby Vision IQ, HDR10 and HLG.
Better yet though is the sound system, and this is where the Danish company likes to show off. Like last year's Beovision Contour, the 55-inch model is equipped with a built-in sound system that's based on its popular Beovision Stage soundbars. It's a 3-channel system with support for Dolby Atmos surround sound, with no less than 11 powerful speaker drivers and amplifiers supported by four 4-inch bass drivers that have been customized to allow more cone movement for improved performance, the company said.
The elegance of the model extends to its cables too, as all connections are routed through the centre rear of the TV, hidden away from view so there's won't be any ugly jumbles of cables spoiling the look. Even the remote control looks the part, crafted from a single piece of extruded aluminium metal.
Bang & Olufsen takes great pride in the elegance of its TV stands too, seeing them as an integrated element of the TV. What's more there's three options to choose from, to cover all possible scenarios. The aluminium floor stand can turn 180 degrees either side to ensure the TV can be pointed at any spot in the room. The second option, the wall mount, can also be angled slightly to suit different viewing arrangements. Last, there's a tabletop stand option made from another solid piece of aluminium, making it possible to place the TV on a shelf or some other piece of furniture.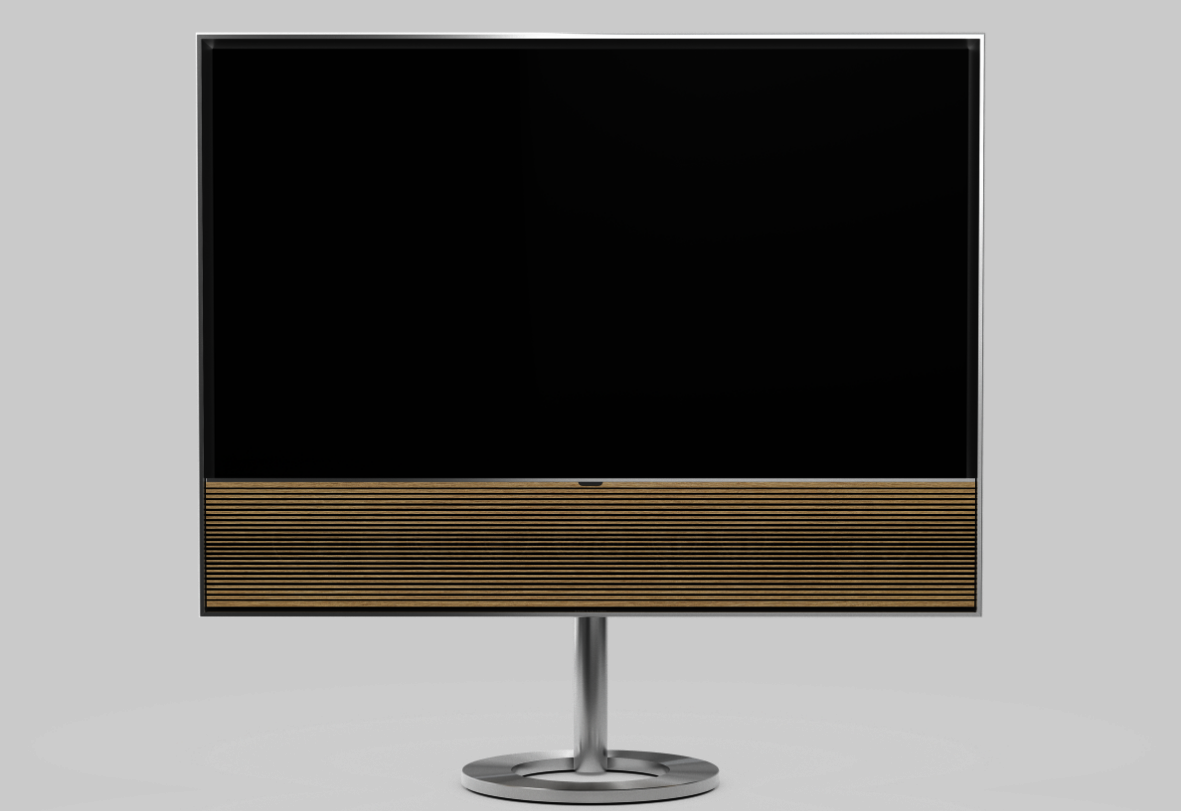 Bang & Olufsen's focus on style means does however mean that, sometimes, it comes up a bit short with regard to some of the other high-end OLED TVs available.
Readers who want a stylish TV that can get the very best performance out of their PlayStation 5 or Xbox Series X consoles will note with alarm that, even though the Beovision Contour has three HDMI 2.1 ports, there's no mention of gaming features like 4K at 120Hz or Variable Refresh Rate, for instance. And it looks as if the display is just a regular OLED panel, rather than the newer, brighter OLED Evo panel seen on LG's and Sony's newest OLED models this year.
Still, if style over substance is your kind of thing, be ready to flash the plastic because the Beovision Contour, like all of Bang & Olufsen's TVs, doesn't come cheap. The company said it will go on sale on June 10 priced at £6,300 for the fabric finish option, and £7,100 if you prefer a wood finish.