Anker Nebula updates two of its most popular portable projectors
By Mike Wheatley
- 20 November 2023
Nebula, the smart entertainment brand of Chinese electronics giant Anker, has announced a pair of new portable projectors for the U.K and Ireland that it says will go on sale in December.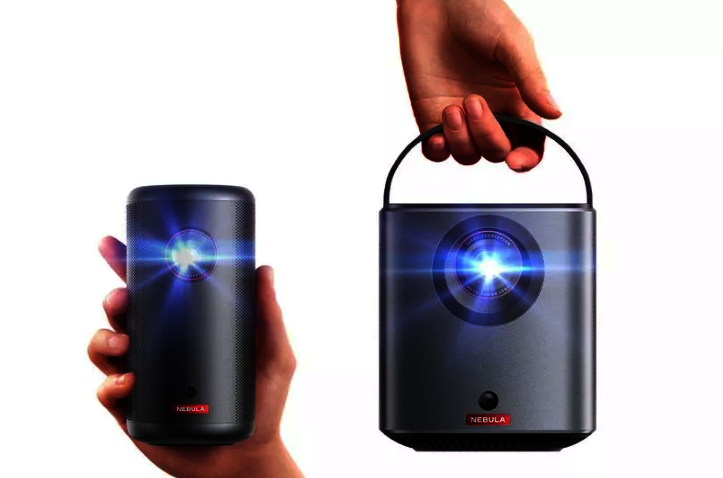 According to the company, the two models are the first portable projectors in the world to offer Google TV and the Netflix application built-in.
They're by no means the most powerful projectors in the world, but portability is a quality all of its own, and the affordable price tag of both models makes them an interesting option for those looking to enjoy big screen pictures on the go. They also offer some interesting features, including long-lasting batteries.
First up is the Nebula Capsule 3, an upgrade of the popular Capsule 2 projector that features the familiar soda can design and can easily be fitted into a large pocket. It's a compact solution for movies and TV watching either at home or on the go. It's not the brightest, with a rating of just 200 lumens meaning that you'll need to close the curtains and carefully block the sunlight out, or wait until the sun goes down to start watching. Still, it packs a fairly hefty 52Wh battery that delivers around 2.5 hours of playback time. It also offers rapid charging with its USB-C with Power Delivery.
The Capsule stands at just over six inches tall, making it very compact and easily carried or stuffed into a travel bag, handbag or briefcase to take with you. It comes with 8-watt speakers for Dolby Digital audio, and there is a small quarter-20 tripod screw on the bottom for those who want to raise it up for a better viewing angle.
As for the Nebula Mars 3 Air, this is the successor to the popular Nebula Mars 2, and is a tad bigger and more powerful. The company said it delivers 400 lumens of brightness, which means the pictures will be of higher quality in sunlit rooms – certainly watchable, but of course not on the same level as chunkier, at-home models. It provides a similar performance in terms of its battery, with users able to squeeze up to 2.5 hours of playtime from its 64.8Wh battery.
On the sound side, it comes with a pair of 80-watt Dolby Digital speakers to ensure a more realistic cinematic experience, either in the living room, back garden or out on the go.
The design remains compact, and the Mars 3 Air comes with its characteristic carry handle and offers a quarter-20 tripod screw. Like the Capsule 3, it's an ideal companion for business trips and holidays, offering a slight boost in performance in exchange for a bit more heft
Some of the common features of the Capsule 3 and Mars Air 3 include Auto-Focus, Auto-Keystone Correction and Auto-Fit Screen, which means it should be a doddle to just plonk them down and set them up. There's also an Auto Obstacle Avoidance capability that makes the projector dim in case someone walks in front of it, protecting their eyes from the laser's glare. Finally, both models have a single, standard HDMI port that can be used to connect a media player, Blu-Ray player, console or something else.
Nebula said the Capsule 3 and Mars 3 Air will go on sale in early December, priced at £749.99 and £549.99 respectively.