Alienware announces the world's first QD-OLED gaming monitor
By Mike Wheatley
- 7 January 2022
Dell Technologies' Alienware brand has unveiled what it says will be the world's first QD-OLED gaming monitor when it goes on sale in March.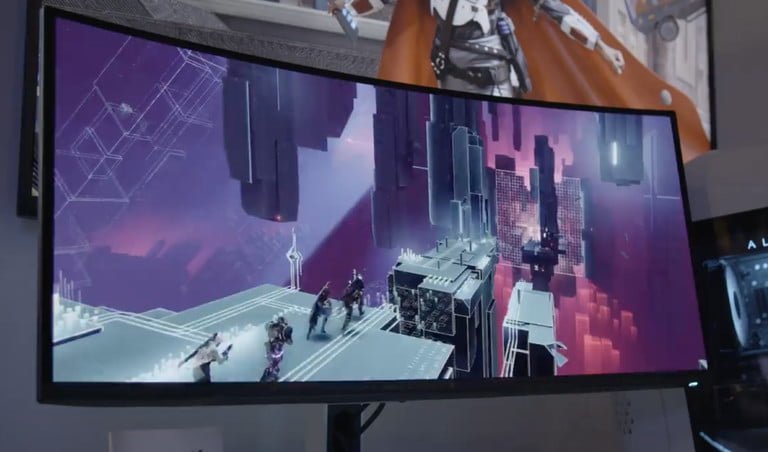 The Alienware 34 Curved OLED Gaming Monitor is a 34-inch monitor that mixes the ultra-high contrast ratio of regular OLED with the superior brightness, colour range and uniformity of a quantum dot pixel layer.
In theory, QD-OLED will mean users no longer have to compromise on image quality or performance. The Alienware 34 Curved OLED Gaming Monitor promises 99.3% coverage of the DCI-P3 colour gamut, an impressive 1,000,000:1 contrast ratio, wide viewing angles and a blazing fast 175Hz refresh rate paired with a 0.1ms gray-to-gray pixel response time.
Alienware has also made some software improvements with the addition of a Creator mode that makes it easier for users to tweak the gamma settings and flip between the DCI-P3 and sRGB colour spaces. Admittedly not everyone will go for the curved display, which could create unwanted reflections or distortion, but it's a feature that may be useful for someone who moonlights as a photo editor, for example.
It's not quite a dream display though, as HDR brightness maxes out at a modest 400 nits, and the 3,440 x 1,440 resolution will not impress anyone who's used to 4K. That said, users will likely appreciate the abundance of ports, with four USB 3.2 Gen 1 downstream ports, one USB 3.2 Gen 1 upstream port, two HDMI connections and one DisplayPort 1.4.
Alienware has also tried to reassure users concerned about the possibility of burn-in with claims of "improved reliability" backed up by a three-year warranty.
The Alienware 34 Curved OLED Gaming Monitor will go on sale in the U.S. on March 29, with pricing to be revealed later. It's a pretty early launch date that should mean Alienware beats Samsung Electronics to the punch as the first company in the world to offer a QD-OLED monitor for sale.
Samsung hasn't officially announced any product, but its Samsung Odyssey G8QNB QD-OLED monitor has already been confirmed as a recipient of a CES 2022 Innovation Award, so we know it's coming. It looks to have very similar specs to the Alienware model, with 3440x1440 pixels, 175Hz refresh rate, 0.1 ms response time and 99% coverage of the DCI-P3 colour gamut, according to the award announcement.