Samsung Smart Start provides free access to premium TV apps
By Mike Wheatley
- 3 August 2021
Samsung Electonics is working with some of its subscription content partners on a new offer that will provide access to hundreds of hours of free, premium content when they buy a new TV.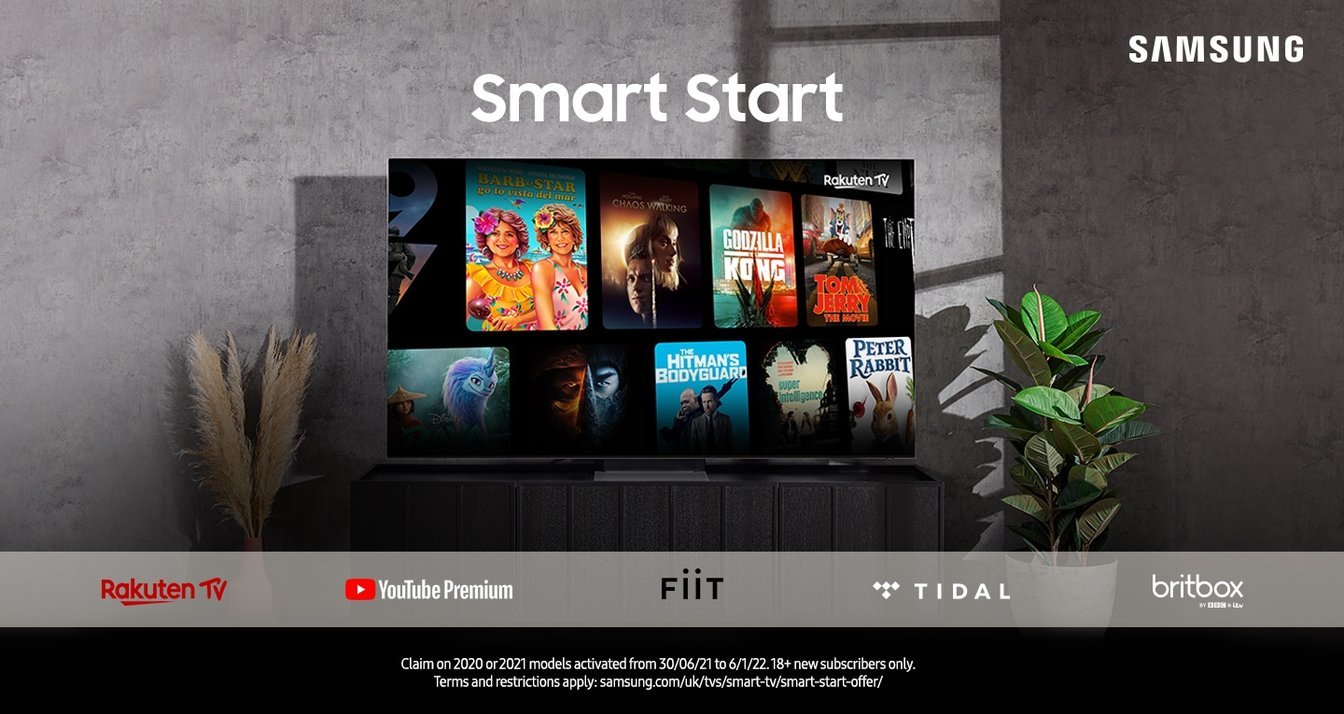 The new Samsung Smart Start offer is a giveaway with more than £200's worth of special offers for certain premium TV apps and entertainment sources, available when buying one of the company's 2020 or 2021 models.
Consumers will be aware that choosing a TV to buy is only half the struggle, because these days there's so much premium content and subscription services on offer that it can appear overwhelming at times. Most people don't want to be paying several subscriptions just to check out what a service has to offer either, so the Smart Start program looks like an interesting proposition.
Samsung cites a recent survey it performed that found 89% of consumers are interested in finding out about new services they can use with their TV, so the program gives those people a unique opportunity to check out a range of premium apps.
Samsung does already provide lots of free content itself through its Samsung TV Plus service, and the new program will add to that temporarily.
Simply switch on your new TV and head over to the pre-installed Samsung Promotions app. There, you'll find unique voucher codes for each of the exclusive offers in the program. They include five free UHD movie rentals from Rakuten TV, a three-month pass to access the British content-focused Britbox service, and three months of ad-free viewing on YouTube, plus three months of access to YouTube Premium. The offer also provides four months access to millions of ad-free songs with lossless audio from TIDAL HiFi, and three months free access to on-demand workouts on Fiit.
"This is a great opportunity for our content partners to tap into the largest Smart TV platform and allow our user base to experience their services risk-free," said Samsung's UK Head of TV/AV Retail & Content Services, Deep Halder. "In an increasingly crowded market of streaming services, we hope Smart Start will allow our partners to stand out and showcase their services in a way that is integrated with how our customers start their Smart TV journey."
Samsung said the Smart Start program offer is available on all 2020 and 2021 Samsung TVs from now until January 6, 2022. The free offers can be activated at any time during the promotion, it said.