Hisense updates its TriChroma Laser TVs at CES 2021
By Mike Wheatley
- 12 January 2021
Hisense is updating its TriChroma Laser TV range with a new RGB laser light source architecture that it says can control separate lasers that enable purer colours to be rendered. The company is also promising brightness that exceeds most regular TVs.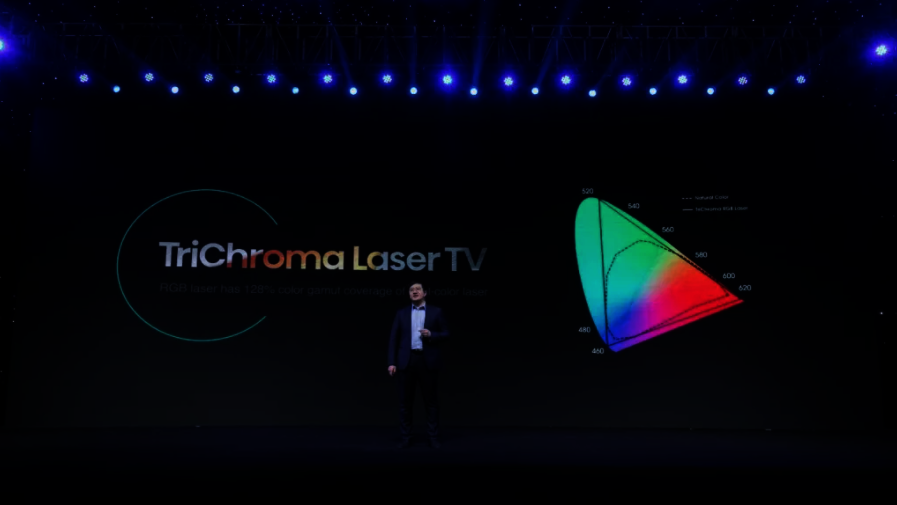 The new projectors were announced at the Consumer Electronics Show, and Hisense said they will be fitted with a couple of in-house processors it has developed. They include one that supports Mini LED direct backlight control for more than 5,000 zones, and an 8K image processing chip. Hisense didn't offer any more details than that.
What it did talk about is the new laser architecture. The upcoming TriChroma range, including the high-end 100L9 Pro Limited Edition model, will sport a newly designed RGB laser system that packages different coloured lasers separately so they can be controlled individually. Hisense said this is a "high-class DLP solution" that delivers 128% improvement over standard RGB colour. It also delivers 20% more brightness at the pixel level, resulting in 430-nit picture brightness overall.
Dr. Liu Xianrong, Chief Scientist at Hisense Laser Display said the new colour performance is almost 50% better than that of high-end cinemas. The TriChroma Laser TVs can in fact be considered as mini cinemas for the home, with display sizes ranging from 75-inches to 100-inches. The new models will also be equipped with AI cameras that can enabele "social interactions" such as karaoke and fitness.
There will also be a customised version of Hisense's popular ULED U7 laser TV that comes with a 144Hz refresh rate and "extremely high dynamic range" to better showcase live sports action. That model is set to be released just before the rescheduled Euro 2020 football championship. Hisense is one of the official sponsors of that tournament.
Hisense also talked about a new Sonic Screen Laser TV coming this year, which will be a mass produced self-rising laser TV (pictured), and a 10,000 lumens commercial Laser TV, though it didn't offer any other details on these.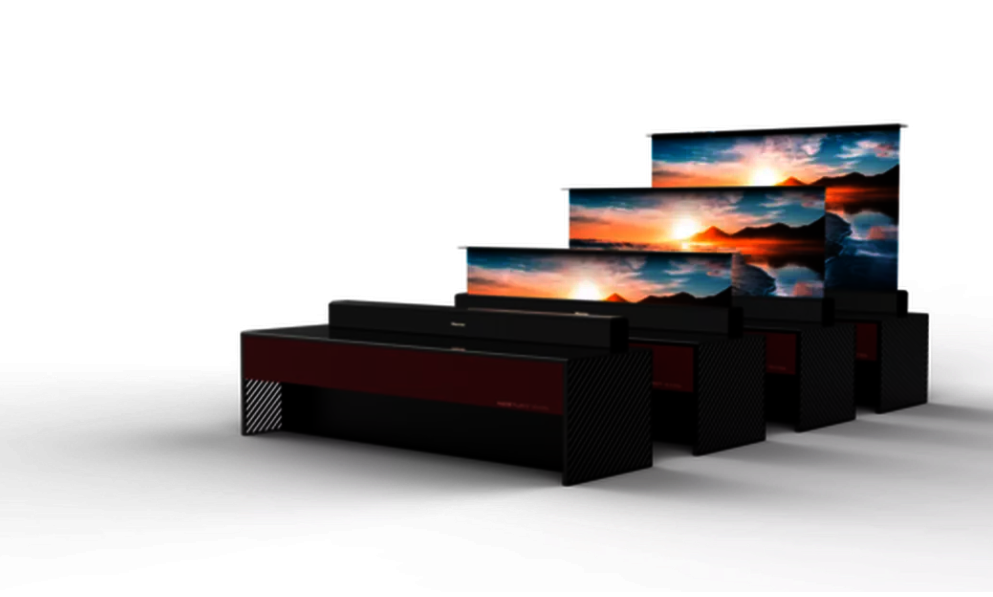 Perhaps the biggest takeaway is that Hisense is as committed as ever to laser-based home entertainment, pushing the needle further out with its TriChroma range that should deliver the full colour spectrum that can be perceived by the human eye.
What is clear though is Hisense's commitment to laser based home entertainment as it pushes to bring all of its laser TVs into the TriChroma era which brings with it almost the full range of colours recognised by the human eye. Laser TV is still a niche category to be sure, but Hisense reckons it's growing fast, with sales increasing by 288% in 2020 compared to the year before.